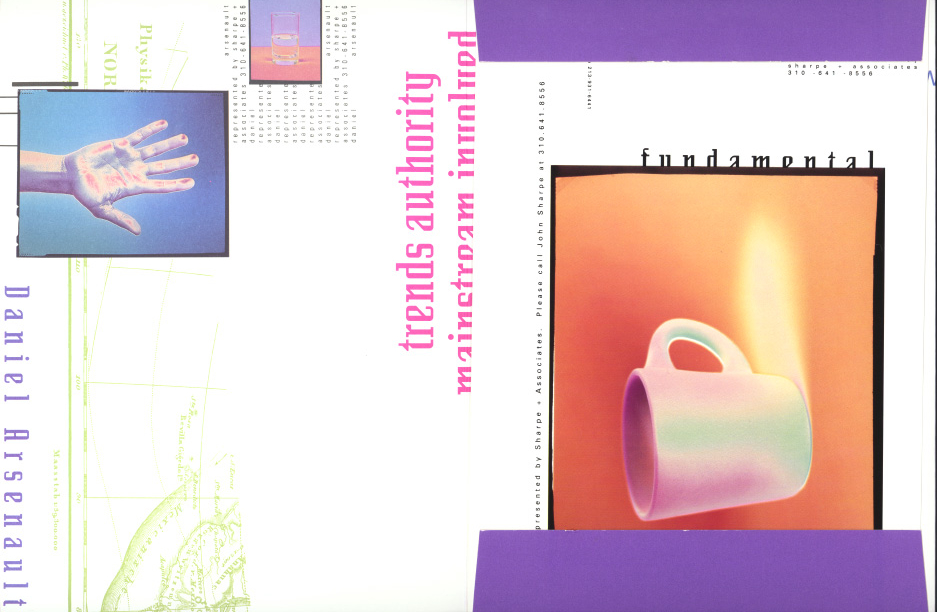 MY CREATIVE COLLAGE
My transition to painting was a very natural one, and is a renewal of an early love. I studied painting and photography while an art student in the early 1980s, when I first developed a fascination with combining images into collages. The pieces I designed—fusions of photography, type, and paint—were true multimedia expressions. Designer April Greiman, who was among the first to do this kind of collage on the computer, was an important early influence.
After graduating from University of Michigan, I worked in graphic design in Boston, while also building my photography skills. In those early, pre-electronic-design days, the work still had a collage-making vibe, as we arranged images and blocks of text on mock ups. Around 1988, my husband, Greg Crawford, and I moved west. On the strength of the collages in my portfolio, I scored my first graphic design job in LA with legendary graphic designer and filmmaker Saul Bass.
The next few years were a whirl of building first my career, and then also my own business, and bringing up my two wonderful daughters. Several years ago, my need for personal artistic expression lit up again. Although I identify primarily as an abstract painter, my works have elements of collage, as I incorporate everything from acrylic skins to dried leaves in works in a range of sizes.
I love the freedom paint allows. I feel no need for restraint—an active compelling canvas is what I strive for. While I am proud of the smooth and systematic approach we take to client projects at CMg Design, there is definitely a creative chaos in my home studio, with canvases everywhere (even underfoot), multiple works in progress, and easy access to the natural environment that inspires me.